Finding the right travel pillow is no laughing matter. Or is it?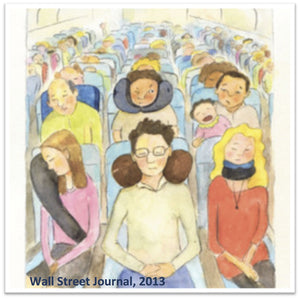 If you Google "travel pillows" the variety of shapes, sizes, features and claims made have to make you laugh. The funniest products in my mind are the Sky Rest and the Ostrich. The former is an inflatable block-shape pillow roughly the size of a milk crate that sits on your lap or fold-out table and the Ostrich is a bean-filled hood that covers your entire head except for your nose and mouth so that you look like a giant eyeless teddy bear. Oooh, bad hair.
 There are also innumerable reviews and comparisons to be found on the Web. The best one I found was in the Gear and Gadgets section of the Wall Street Journal, called "Desperately Seeking Slumber," by 
Nancy Keates, updated Feb. 1, 2013.
In her article, Keates rated eight conservative choices (i.e., neither the inflatable crate or the teddy bear head was included) on four criteria: Embarrassment Factor, Sleep-Aid Help, Packability and Set-Up Hassle.
 Although some of the neck support pillows provided reasonable relief for the middle seat, Keates recommends that travelers book a window seat and bring their own pillow with multiple pillowcases to ensure cleanliness on their journey.
 The surfeit of novelty and gimmicks among travel pillows can make it difficult to find what you are really looking for—a versatile, comfortable and sanitary travel pillow that will serve you while on route and at your destination.
 We think the Pillowpacker® Pillow is just the travel pillow Keates and you may be searching for! Adjustable firmness, built-in neck support, packable, easy to use, sanitary with extra pillowcases available, makes this pillow ideal for transportation and night-time sleeping away from home. And certainly, no one would feel embarrassed toting the world's best home-style inflatable travel pillow in a choice of Canadian duck down, Hutterite goose down and Eco2 Suprelle Microfibre fillings in its tidy stuff sack.
Make the comparison for yourself. See the comparison chart to determine whether a Pillowpacker® Pillow is right for you. 
INVENTED BY TRAVELLERS, FOR TRAVELLERS
LUXURY MICROFIBER INFLATABLE TRAVEL PILLOW
$99.95
Sleep Easy With Pillowpacker Washable Travel Pillows. Comfortable, Hygienic, Personal & Packable
INVENTED BY TRAVELLERS, FOR TRAVELLERS
DUCK DOWN INFLATABLE TRAVEL PILLOW
$124.95
Try Our Ultra Soft Duck Down Inflatable Travel Pillow for a Wonderful, Luxurious, and Hygienic Sleep.
INVENTED BY TRAVELLERS, FOR TRAVELLERS
LUXURIOUS GOOSE DOWN INFLATABLE TRAVEL PILLOW
$199.95
Pillowpacker Pillows Offers Luxurious Hutterite Goose Down Travel Pillows for Anyone Looking for Ultimate Comfort.
Leave a comment
Comments will be approved before showing up.
---
Also in Blog
Insuremytrip™, a company specializing in customized travel insurance, has some very helpful travel advice and tips for long haul flights. Long haul flights, more than 2200 nautical miles (4100km) can be killers to your travel comfort.
Probably the most vital of these travel tips is to pack a travel pillow, sleep mask and earplugs. Sleep masks and ear plugs are pretty generic but there are hundreds of varieties of travel pillows. If you leave yourself at the mercy of the complementary "pillows" provided free by the airline you have just inflicted a major injury on yourself, akin to shooting yourself in the foot but without the humour.