A Pillowpacker microfibre travel pillow for diving in Sharm El-Sheikh? You bet.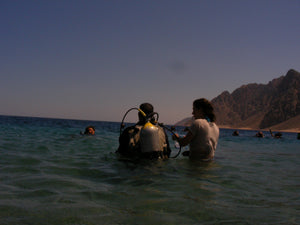 Sharm El-Sheikh, Egypt is on the Sinai peninsula where the gulfs of Suez and Aqaba are born from the Red Sea. The water is as blue and clear as the noon-day sky, attracting divers who plunge to the depths, with dive clubs and shops dotting the shores of Sharm El-Sheikh.
Just 40 minutes south, at the very tip of the Sinai, is Ras Mohammed National Park. Ras Mohammed, or "The Head of Mohammed," doesn't come from its resemblance to the bearded Prophet, as local myth holds, but for the fact that it's a coastal headland.
Ras Mohammed is famed for its stunning natural beauty and scientific significance. It's protected from most human interference, such as fishing and urbanization. But diving is one of the few human experiences still allowed, to take in its stunning coral reefs and wildlife.
It's not just the natural sights, either. Boat wrecks like the SS Thistlegorm dot the underwater landscape, being gradually reclaimed by nature. The skeletons of forgotten hulks are re-appropriated by fish and coral, turned back into natural habitats for the sea life these machines once threatened. All available for exploration from divers.
Jetties are there to ferry tourists out to popular dive spots for boat dives. But it's beach diving that makes Sharm El-Sheikh so attractive. The ability to don your diving gear and walk directly from the breathtaking beaches into the waters of the Gulf of Aqaba and the Red Sea are a major appeal.
How tired do you get diving?
"It's exhausting to dive," says the Sharm El-Sheikh diver we spoke to. "When you're on location, you do two or three dives in a day."
"I like to dive from beaches. I don't like diving from boats," they say, talking about heading back to the hot sand and frequent lack of shade that makes up their downtime between dives. "Between dives you crawl back up to the beach and nap on the sand."
"You are so tired from diving… just breathing the air underwater makes you tired. You have to rest between dives, you have to wait until your computer lets you go down again."
That's the need for decompression that scuba divers face. When diving, the gases in your blood stream become pressurized. Divers need to control how quickly they pressurize and depressurize to avoid a condition called decompression sickness, or "the bends".
It can range from nuisance symptoms to extremely dangerous, and every diver keeps dive tables, dive computers, and practice controlled ascents to manage it. Dive masters look after novice divers to make sure they manage the risks associated with the sport. Between dives, divers rest to let the inert gases (usually nitrogen) naturally dissolve out of their bloodstreams.
And in Sharm El-Sheikh, that means resting in the baking heat of the Sinai. "You're in hot places, and you don't have all the comforts of home with you."
Would a 
Pillowpacker® microfibre travel pillow for scuba divers help them decompress—literally?
How would they feel about the Pillowpacker® microfibre travel pillow? Its synthetic microfibre design is more resistant to the water scuba divers are exposed to than our more luxurious down alternatives.  "I could see a pillow being very handy, because we have to rest between dives. A travel pillow that doesn't get affected by sea water that I could take out of my dive bag."
With the frequent naps on hot boats and beaches under the Sinai sun in Sharm El-Sheikh, comfort is a luxury. Thankfully, comfort, luxury, and portability are exactly what we deal in at Pillowpacker®.
"That would be perfect. That would be really good in your diving bag, for your down time between dives."
Can they just use a regular pillow? Not a chance, says our diver: "If you're travelling, you've got to think that your dive bag's got to go on an airplane."
That's exactly the kind of situation our Pillowpacker® microfibre travel pillows are built for. Made from eco-friendly siliconized Dacron polyester, the same material that makes up boat lining and rigging, it's designed to take and resist the kind of moisture and sea water our diver is talking about.
With portability at a premium, Pillowpacker® is once again the perfect fit for any scuba diver looking for a travel pillow to bring with them. Our pillows scrunch down into a stuff sack much smaller than your average scuba tank and diving gear, ready to stow with the rest of your equipment as you decompress after taking in the view beneath the clear blue waters of Sharm El-Sheikh, or anywhere else you dive. 
INVENTED BY TRAVELLERS, FOR TRAVELLERS
LUXURY MICROFIBER INFLATABLE TRAVEL PILLOW
$99.95
Sleep Easy With Pillowpacker Washable Travel Pillows. Comfortable, Hygienic, Personal & Packable
INVENTED BY TRAVELLERS, FOR TRAVELLERS
DUCK DOWN INFLATABLE TRAVEL PILLOW
$124.95
Try Our Ultra Soft Duck Down Inflatable Travel Pillow for a Wonderful, Luxurious, and Hygienic Sleep.
INVENTED BY TRAVELLERS, FOR TRAVELLERS
LUXURIOUS GOOSE DOWN INFLATABLE TRAVEL PILLOW
$199.95
Pillowpacker Pillows Offers Luxurious Hutterite Goose Down Travel Pillows for Anyone Looking for Ultimate Comfort.
Leave a comment
Comments will be approved before showing up.
---
Also in Blog
Insuremytrip™, a company specializing in customized travel insurance, has some very helpful travel advice and tips for long haul flights. Long haul flights, more than 2200 nautical miles (4100km) can be killers to your travel comfort.
Probably the most vital of these travel tips is to pack a travel pillow, sleep mask and earplugs. Sleep masks and ear plugs are pretty generic but there are hundreds of varieties of travel pillows. If you leave yourself at the mercy of the complementary "pillows" provided free by the airline you have just inflicted a major injury on yourself, akin to shooting yourself in the foot but without the humour.