Your Pillow, Your Way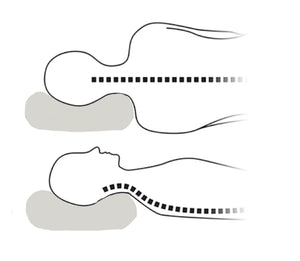 The Internet has a lot of advice on selecting the right pillow because having the right pillow is essential in getting a good night's sleep. Most doctors, physiotherapists and other sleep experts recommend selecting a pillow that provides the right level of support based on your sleeping position. Having the right pillow helps maintain the spine in "neutral alignment," i.e., the same position of the head and spine as when standing with good posture. The neutral alignment in the side and back sleeping postures are illustrated in Figure 1.
People who sleep on their sides need more support than those who sleep on their back. Side sleepers need a pillow that fills the gap between the shoulders and the neck keeping the spine more or less parallel to the bed. Back sleepers generally need a pillow with extra loft in the bottom third of the pillow to cradle the neck in an unstrained manner. Stomach sleeping is not encouraged but if you do, you need a soft thin pillow to minimize pressure on the neck. If you are a multi-position sleeper, the best pillow for you might have softer and firmer sections, or be lower in the center for back sleeping and higher on the sides for side sleeping. For people who have neck problems or back pain experts might recommend contoured neck supports or knee pillows.
As for fillings, most experts recommend down or down and feather mixes because of their ability to reduce pressure points, mold to the sleeper's needs, and their natural moisture wicking and heat regulating properties. If specific allergies are a concern a good quality polyester microfiber is an alternative but generally is not expected to last as long as good quality down and down/feather blends. Washability is important as experts also recommend regular pillow washing to reduce the build up of dead skin cells, mould, dust mites and other impurities.
The Pillowpacker® Pillow – Your Pillow, Your Way
Sleep experts also agree that sleeping away from home presents additional challenges due to unfamiliar surroundings. We at Pillowpackers don't think travellers need to suffer unfamiliar and ill-fitting pillows at any time. With a Pillowpacker® Pillow you can have your own pillow, your own way, wherever you rest your head.
The small but powerful little Pillowpacker® Pillow is approximately half the size of a standard bedroom pillow at 29 by 14 inches (48 by 36 cm) but it does the job of a full size pillow. The reason the Pillowpacker® Pillow is so effective is because of the inflatable contoured inner pillow at its core (Figure 2). The inner pillow is made of tough but flexible polyurethane film. (Polyurethane film, not to be confused with polyurethane foam, is safe and is widely used in many medical and consumer applications.)
The Pillowpacker® Inflatable Travel Pillow is totally customizable to your needs. By adjusting the amount of air in the inner pillow you control the firmness and support. Side sleepers require the firmest support – but this does not mean hard. It is the amount of air sufficient to support your head in the neutral alignment illustrated in Figure 1a. If you are a back sleeper you will require less air. The lower contour of the pillow will gently support your head in its neutral curve as illustrated in Figure 1b. The front or stomach sleeper, probably would use no air at all and just benefit from the properties of their own clean soft pillow upon which to rest their head and face. A combination sleeper can experiment with different pressures and see which best suits. 
Pillowpacker® Pillows also make great knee pillows. For back sleepers, placing a pillow under the knees can relieve back tension and allow the spine to rest in a neutral position. For side sleepers, a pillow between the knees reduced pressure on knee joints and prevents torsion of the hip and spine.  
The inflatable inner pillow is nestled within an outer pillow, a zippered pouch made of a minimum of five ounces (150 grams) of the finest quality fillings. The purchaser has a choice of white goose down from the Hutterite communities of Alberta, duck down from Brome Lake, Quebec or Eco2 Suprelle Micro from Germany, in shells of 100% cotton. (For more information on our down, click here; for more information on Suprelle, click here.) All outer pillows are washable at 60 degrees centigrade, above the temperature necessary to kill dust mites. For washing instructions, click here.
The pillow when assembled fits inside its own home-style100% cotton pillowcase in a choice of fashion colours. See Figure 3. For travelling, the ensemble compresses to fit in its own nylon stuff sack.
Because the Pillowpacker® Pillow is different from any other travel pillow, we recommend that our customers experiment for several nights at home before heading out on a trip to allow time to find the right inflation to meet their needs and preferences. From feedback we have received from customers -- and our own personal experience -- Pillowpacker® Pillows allow us to take our pillows wherever we travel. In fact, for a number of us they have even become our primary bedroom pillows we love them so much!
INVENTED BY TRAVELLERS, FOR TRAVELLERS
LUXURY MICROFIBER INFLATABLE TRAVEL PILLOW
$99.95
Sleep Easy With Pillowpacker Washable Travel Pillows. Comfortable, Hygienic, Personal & Packable
INVENTED BY TRAVELLERS, FOR TRAVELLERS
DUCK DOWN INFLATABLE TRAVEL PILLOW
$124.95
Try Our Ultra Soft Duck Down Inflatable Travel Pillow for a Wonderful, Luxurious, and Hygienic Sleep.
INVENTED BY TRAVELLERS, FOR TRAVELLERS
LUXURIOUS GOOSE DOWN INFLATABLE TRAVEL PILLOW
$199.95
Pillowpacker Pillows Offers Luxurious Hutterite Goose Down Travel Pillows for Anyone Looking for Ultimate Comfort.
1 Response
Leave a comment
Comments will be approved before showing up.
---
Also in Blog
Insuremytrip™, a company specializing in customized travel insurance, has some very helpful travel advice and tips for long haul flights. Long haul flights, more than 2200 nautical miles (4100km) can be killers to your travel comfort.
Probably the most vital of these travel tips is to pack a travel pillow, sleep mask and earplugs. Sleep masks and ear plugs are pretty generic but there are hundreds of varieties of travel pillows. If you leave yourself at the mercy of the complementary "pillows" provided free by the airline you have just inflicted a major injury on yourself, akin to shooting yourself in the foot but without the humour.